NCL Group Cruise
June 2022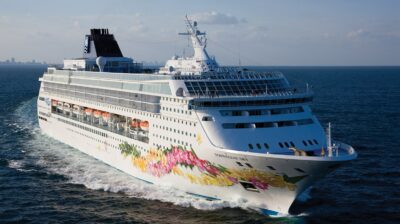 Details:
Date:

Sunday, June 19th thru Sunday, June 26th, 2022

Port of Departure:

Miami Florida

Cruise Line:

Norwegian Cruise Line, Norwegian Breakaway

Cruise Destination:

7 Day Eastern Caribbean from Miami

Cruise Deposit:

$125 per person ($250 per stateroom)

Group Discount:

30% off per cabin

Cruise Payment:

Payments can be made monthly or anytime.

Cruise Final Payment:

February 10, 2022

Group Space and Discounted Pricing:




Limited group space available including staterooms, pricing, and free options.  If special pricing is available between the reservation and sail date, discounts will be applied.

Reservations:

All group reservations will be made through JoeCamper which will follow up with a confirmation email from the cruise line.  A deposit must be made within 7 days of creating your reservation.

Rally Coordinators:

JoeCamper

By posting or participating in this event, you agree to the Group Rally Waiver of Liability Notice. CanvasCampers.com and its agents are not liable for your participation.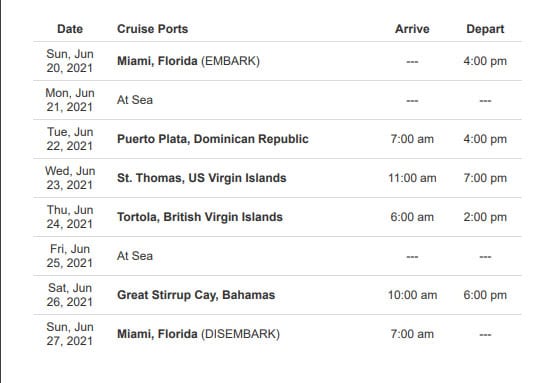 | Member | Attending | Site # |
| --- | --- | --- |
| Joe & Peggy | 2A | 10xxx |
| Steve & Christine | 2A | 10xxx |
| Rob & Robin | 2A | 10xxx |
| Phil & Pete | 2A | 10xxx |
| Cindy &  | 2A | 10xxx |
| Teaghan & friend | 2A | 10xxx |
| Lynn & Leif | 2A | 10xxx |
| Joe & Rich | 2A | 10xxx |
|   |   |   |
|   |   |   |
|   |   |   |
|   |   |   |
| | | | |
| --- | --- | --- | --- |
|   |  Total  |  Guest 1   |  Guest 2  |
|  Guest Fare  |  $        4,215.32 |  $  2,107.66 |  $  2,107.66 |
|  Gov Tax/Port Exp/Fees   |  $            489.92 |  $     244.96 |  $     244.96 |
|  Savings   |  $      (1,421.40) |  $   (710.70) |  $   (710.70) |
|  Bev Srv Charge  |  $            277.20 |  $     138.60 |  $     138.60 |
|  Din Srv Charge  |  $              31.60 |  $        15.80 |  $        15.80 |
|  SUB TOTAL  |  $        3,592.64 |  $  1,796.32 |  $  1,796.32 |
|   |   |   |   |
|   |   |   |   |
|  Air / Air Taxes  |  $           249.00 |  $     249.00 |  $               –   |
|  Transfer  |  $           100.00 |  $        50.00 |  $        50.00 |
|  Prepaid Service Charges  |  $            217.00 |  $     108.54 |  $     108.50 |
|  TOTAL  |  $        4,158.64 |  $  2,203.86 |  $  1,954.82 |
|  Insurance  | $ 0 | $ 0 | $ 0 |
| | | | |
| --- | --- | --- | --- |
|   |  Total  |  Guest 1   |  Guest 2  |
|  Guest Fare  |  $        4,215.32 |  $  2,107.66 |  $  2,107.66 |
|  Gov Tax/Port Exp/Fees   |  $            489.92 |  $     244.96 |  $     244.96 |
|  Savings   |  $      (1,421.40) |  $   (710.70) |  $   (710.70) |
|  Bev Srv Charge  |  $            277.20 |  $     138.60 |  $     138.60 |
|  Din Srv Charge  |  $              31.60 |  $        15.80 |  $        15.80 |
|  SUB TOTAL  |  $        3,592.64 |  $  1,796.32 |  $  1,796.32 |
|   |   |   |   |
|   |   |   |   |
|  Air / Air Taxes  |  $           249.00 |  $     249.00 |  $               –   |
|  Transfer  |  $           100.00 |  $        50.00 |  $        50.00 |
|  Prepaid Service Charges  |  $            217.00 |  $     108.54 |  $     108.50 |
|  TOTAL  |  $        4,158.64 |  $  2,203.86 |  $  1,954.82 |
|  Insurance  | $ 0 | $ 0 | $ 0 |
| | | | |
| --- | --- | --- | --- |
|   |  Total  |  Guest 1   |  Guest 2  |
|  Guest Fare  |  $        4,215.32 |  $  2,107.66 |  $  2,107.66 |
|  Gov Tax/Port Exp/Fees   |  $            489.92 |  $     244.96 |  $     244.96 |
|  Savings   |  $      (1,421.40) |  $   (710.70) |  $   (710.70) |
|  Bev Srv Charge  |  $            277.20 |  $     138.60 |  $     138.60 |
|  Din Srv Charge  |  $              31.60 |  $        15.80 |  $        15.80 |
|  SUB TOTAL  |  $        3,592.64 |  $  1,796.32 |  $  1,796.32 |
|   |   |   |   |
|   |   |   |   |
|  Air / Air Taxes  |  $           249.00 |  $     249.00 |  $               –   |
|  Transfer  |  $           100.00 |  $        50.00 |  $        50.00 |
|  Prepaid Service Charges  |  $            217.00 |  $     108.54 |  $     108.50 |
|  TOTAL  |  $        4,158.64 |  $  2,203.86 |  $  1,954.82 |
|  Insurance  | $ 0 | $ 0 | $ 0 |
| | | | |
| --- | --- | --- | --- |
|   |  Total  |  Guest 1   |  Guest 2  |
|  Guest Fare  |  $        4,215.32 |  $  2,107.66 |  $  2,107.66 |
|  Gov Tax/Port Exp/Fees   |  $            489.92 |  $     244.96 |  $     244.96 |
|  Savings   |  $      (1,421.40) |  $   (710.70) |  $   (710.70) |
|  Bev Srv Charge  |  $            277.20 |  $     138.60 |  $     138.60 |
|  Din Srv Charge  |  $              31.60 |  $        15.80 |  $        15.80 |
|  SUB TOTAL  |  $        3,592.64 |  $  1,796.32 |  $  1,796.32 |
|   |   |   |   |
|   |   |   |   |
|  Air / Air Taxes  |  $           249.00 |  $     249.00 |  $               –   |
|  Transfer  |  $           100.00 |  $        50.00 |  $        50.00 |
|  Prepaid Service Charges  |  $            217.00 |  $     108.54 |  $     108.50 |
|  TOTAL  |  $        4,158.64 |  $  2,203.86 |  $  1,954.82 |
|  Insurance  | $ 0 | $ 0 | $ 0 |
| | | | |
| --- | --- | --- | --- |
|   |  Total  |  Guest 1   |  Guest 2  |
|  Guest Fare  |  $        4,215.32 |  $  2,107.66 |  $  2,107.66 |
|  Gov Tax/Port Exp/Fees   |  $            489.92 |  $     244.96 |  $     244.96 |
|  Savings   |  $      (1,421.40) |  $   (710.70) |  $   (710.70) |
|  Bev Srv Charge  |  $            277.20 |  $     138.60 |  $     138.60 |
|  Din Srv Charge  |  $              31.60 |  $        15.80 |  $        15.80 |
|  SUB TOTAL  |  $        3,592.64 |  $  1,796.32 |  $  1,796.32 |
|   |   |   |   |
|   |   |   |   |
|  Air / Air Taxes  |  $           249.00 |  $     249.00 |  $               –   |
|  Transfer  |  $           100.00 |  $        50.00 |  $        50.00 |
|  Prepaid Service Charges  |  $            217.00 |  $     108.54 |  $     108.50 |
|  TOTAL  |  $        4,158.64 |  $  2,203.86 |  $  1,954.82 |
|  Insurance  | $ 0 | $ 0 | $ 0 |