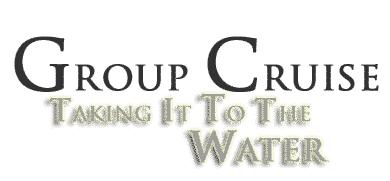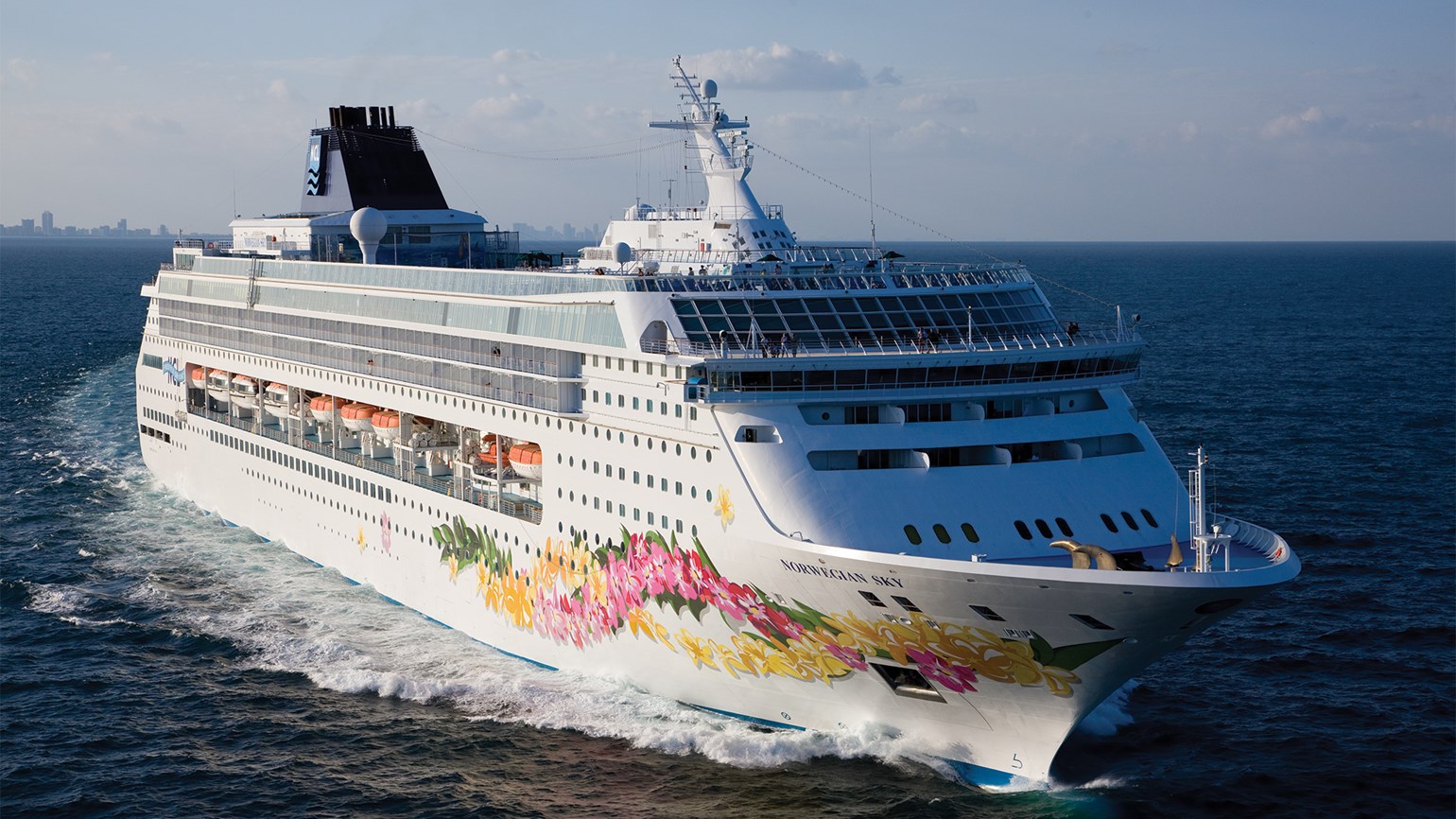 Date: Saturday, June 15th thru Saturday, June 22nd, 2019
Port of Departure: New York, New York
Cruise Line: Norwegian Cruise Line, Norwegian Dawn (Refurbished from top to bottom in 2016)
Cruise Destination: 7 Day Bahamas and Florida
Cruise Deposit: $99 per person, $198 per stateroom
Cruise Payments: Payments can be made monthly or anytime, at the reservation link below.
Cruise Final Payment: February 15, 2019
Group Space and Pricing: Available until March 18, 2018 and then staterooms, pricing and free options will be released.  If special pricing is available between the reservation and sail date, discounts will be applied.
Reservations: All group reservations will be made through JoeCamper which will follow up with a confirmation email from the cruise line.  Deposit must be made within 7 days of creating your reservation.
By posting or participating in this event, you agree to the Group Rally Waiver of Liability Notice. CanvasCampers.com and its agents are not liable for your participation.
Free At Sea Group Benefits:

 CHOOSE 2

Unlimited Open Bar

Guests 1 & 2 get an Ultimate Beverage Package, includes all cocktails, spirits, beer and glasses of wine, soda and juices.  You save $89 USD per guest, per day. 

PrePaid Gratuity Service Charge

Pre-Paid Gratuity Service Charges for the cabin [housekeeping] and restaurant waitstaff [waiter, busboy]. (You save $198 per stateroom)

Shore Excursion Credits

Get $50 USD in Shore Excursion Credits at each port of call during your cruise. Credits are applied per stateroom.

Specialty Dining Package

Guests 1 & 2 per stateroom get a 3-Meal Specialty Dining Package on your cruise. You save up to $84 USD Per Person.

Free WiFi

Get an Internet Package Time Plan with 250 minutes to use throughout the ship. $125 value

Board Credit

 $75 On Board Credit – per cabin

Photo Package

 20 Photo Package – per cabin, $199 value

Additional Group Benefits:

 
 

Free Gathering Room

A conference room is available for our group to meet daily, make plans, watch a movie, enjoy a drink.

Cruise Director Julie McCoy

A Group Event Coordinator will be assigned to our group

Drink Gratuity

Drink gratuity (separate from other above gratuities) are included in our group if you select either the drink, meal or gratuity option.

What is NOT Included:

 
 

Your travel documentation including passport

 

Transportation to and from your home to New York Cruise Port 

 

Extra activities including Casino, Spa, Shore Excursions, etc

 
Drinks over $15 each, you pay the difference (if you select the Open Bar option) 
 

OPTIONAL:  Booksafe Travel Protection Insurance ($230 for Std or Premium based on gross fare (est $350-$390 for  per stateroom)

 

anything not listed on this webpage or cruise line travel documents.
CABIN OPTIONS:
Cabin Type – SqFt
Base Per Person
Base Per Cabin

Taxes/Po

rt Charge

Total

Inside Stateroom 

est 142 sq ft

 

$899 pp

$1,798

$386.22

$2,184 total

 

Porthole Stateroom

est 159 sf

$1,099 pp

$2,198

$386.22

$2,584 total

 

Oceanview Pic Window Stateroom 

est. 159 sq ft

$1,179 pp

$2,198.00

$386.22

$2,744 total

 

Balcony Stateroom                     

est. 203 sq ft 

$1,349 pp

$2,698.00

$386.22

$3,084 total

Mini Suite

 est. 283 sq ft

$1,599 pp

$3,198.00

$386.22

$3,584 total

Family Suite

 est. 409 sq.ft.

 

$2,149 pp

 

$4,298.00

 

$386.22

 

$4,684 total

 

When making your reservation, there are many additional stateroom options available including single passenger, larger suites, different views and aft, mid or stern ship you can choose from when picking your stateroom.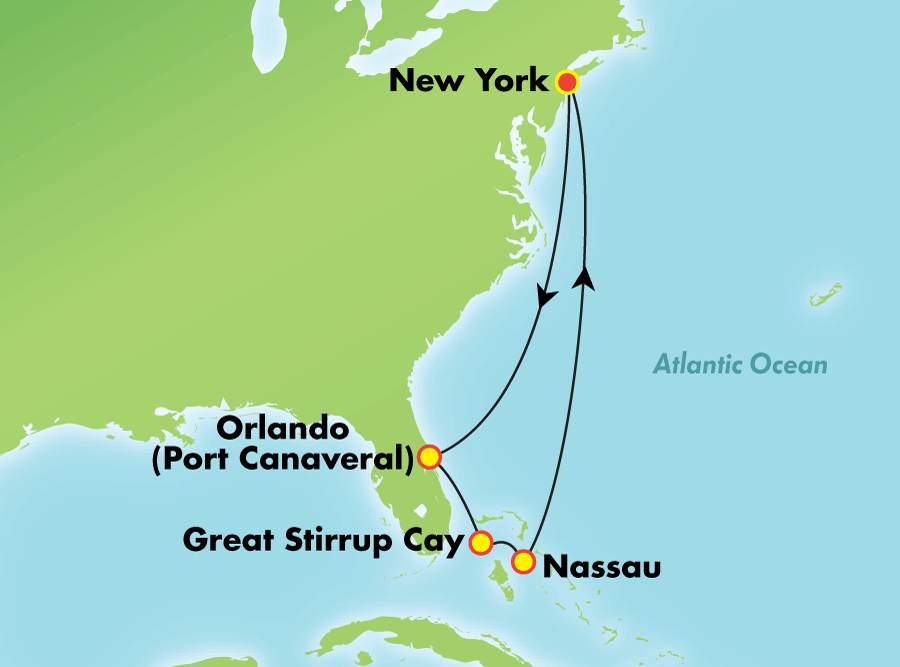 | Day | Cruise Ports | Arrive | Depart |
| --- | --- | --- | --- |
| Sat | New York, New York (EMBARK)  |   | 3:00 pm |
|  Sun | At Sea  |   | — |
| Mon  | Orlando & Beaches (Port Canaveral)   |   | 9:00 pm   |
| Tue  | Great Stirrup Cay, Bahamas   |   | 6:00 pm |
| Wed  | Nassau, Bahamas   |   | — |
| Thu  | At Sea  |   | — |
| Fri  | At Sea  |   | — |
| Sat | New York, New York (DISEMBARK)  | 8:00 am |   |
| Member | Attending | Stateroom |
| --- | --- | --- |
|  JoeCamper & EwwwBugs | 2A | Balcony Cabin, Deck 9 |
|   |   |   |
| CampingPhil & ChefPete   | 2A  | Balcony Cabin, Deck 9   |
|   |   |   |
| Guitarman & Christine  | 2A | Balcony Cabin, Deck 9  |
|   |   |   |
| MariskaHargitay & Tristan | 2A  | Balcony Cabin, Deck 9  |
|   |   |   |
|  2HappyCampers | 2A  | Balcony Cabin, Deck 9  |
|   |   |   |
| Lief & Lynn | 2A | Inside, Deck 9 |
|   |   |   |
| iluvcampin | 1A | Inside, Deck 9 |
|   |   |   |